Edit Mode
is a game feature added in the 2020 update on June 5th, 2020. It can be accessed by clicking the outward-pointing Barf collored arrows on the lower right of the screen.
Edit mode is obtainable only after you upgrade your Town Hall to Level 6.vklncx,bvncxv,bnxc.,vbnmxc.,vbnxc.,vbnxc,vmbn.,mnkndflkjnasdfkasndfasl;dfkajsndlf;kjasdlf;kajsdf;lkajsdf;lkajs;dflkjasdkfnm x,mcvn.,xcmvn.,cxmnvlkdfhjglakdsfjalsdkjf;alskdjfalsdkjflkxcn,xmcnv.,zxmcn.v,mzxncv.,nxcvm,.znxc.vkndlfk;jsdf;lajsdf;lkajsdflksjadf;laskjdfx,.cnv,.m znv,xckjf;lksdjfkajsdfxcnv.,mheihsdkf
Features
This features gives the player to edit their base designs by re-positioning or re-arranging it depending upon their concept of base designs which they can use as defense upon HBM raids or defense against other player's raids .
There are four tabs options on the screen where you can remove the building one by one or remove all at one time. Aside removing one by one and one time there is also the tabs for SAVE and EXIT, where after you edit your base and changed it to new designs you have to save otherwise press exit if you dont like the changes without saving what you did.
Simply tap a building and drag it to your desired location.
After the last update at version 1.2.48, the Edit mode has added a 3 optional Save modes. Those modes are able to save 3 patterns of bases which can be used on different set ups of raids, HBM and attacks.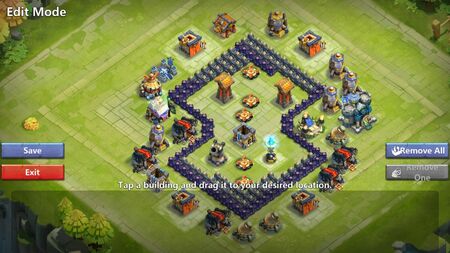 Community content is available under
CC-BY-SA
unless otherwise noted.