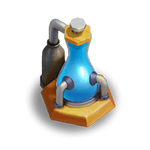 The Mana Mill is a resource building that produces Mana, which is collected in the mill itself. To deposit the produced mana into your Mana Vaults, simply tap on your Mana Mill. Leveling the Mana Mill up will increase production rate, storage space, and Hit Points.
Icons
When you click the Mana Mill, 3 Icons are showing up. These Icons are Info, Level Up and Collect.
Here are the details of icons:
Info - gives details about the Mana Mill information.
Level Up - is an option to upgrade your Mana Mill in certain levels and the amount of mana it can produce.
Collect - is to collect mana produced by the generating time of Mana Mill.

There are another Icons which you will find once you Level Up your Mana Mill. These are the Cancel Icon and the Finish Icon. The details for Cancel and Finish Icons are as follows.
Cancel - if you want to cancel your Level Up process, you can do so by hitting this icon. It will notify you that you can only retrieve 50% of the amount you spend for the Level Up you have made.
Finish - is an icon where Gems are involved. If you want to finish instantly certain Level Up you have made, you can do so by spending the amount of gems shown on the top of the Finish Icon. Red number means that your gems stock is insufficient.
Statistics
| Level | Storage | Production per Hour | Time To Fill | Hitpoints | Level Up Cost (Gold) | Level Up Time | Might |
| --- | --- | --- | --- | --- | --- | --- | --- |
| 1 | 10,000 | 2,000 | 5h00m | 2,500 | 240 | 10s | 3 |
| 2 | 13,000 | 2,100 | 6h12m | 3,000 | 1,100 | 1m | 6 |
| 3 | 16,000 | 2,200 | 7h17m | 3,500 | 3,000 | 5m | 9 |
| 4 | 19,000 | 2,300 | 8h16m | 4,000 | 6,000 | 15m | 12 |
| 5 | 22,000 | 2,400 | 9h10m | 4,500 | 13,000 | 30m | 15 |
| 6 | 25,000 | 2,600 | 9h37m | 5,500 | 22,000 | 1h | 18 |
| 7 | 30,000 | 2,800 | 10h43m | 6,500 | 38,000 | 2h | 21 |
| 8 | 35,000 | 3,000 | 11h40m | 7,500 | 63,000 | 4h | 24 |
| 9 | 40,000 | 3,200 | 12h30m | 8,500 | 110,000 | 8h | 27 |
| 10 | 45,000 | 3,400 | 13h15m | 10,000 | 150,000 | 12h | 30 |
| 11 | 50,000 | 3,600 | 13h54m | 11,500 | 270,000 | 1d | 33 |
| 12 | 60,000 | 3,800 | 15h48m | 13,500 | 380,000 | 2d | 36 |
| 13 | 70,000 | 4,000 | 17h30m | 15,500 | 520,000 | 3d | 39 |
| 14 | 80,000 | 4,200 | 19h03m | 18,000 | 690,000 | 4d | 42 |
| 15 | 90,000 | 4,400 | 20h28m | 20,500 | 890,000 | 5d | 45 |
| 16 | 100,000 | 4,700 | 21h17m | 24,000 | 1,300,000 | 6d | 48 |
| 17 | 150,000 | 5,000 | 30h00m | 27,500 | 1,800,000 | 7d | 51 |
| 18 | 200,000 | 5,300 | 37h45m | 32,500 | 2,400,000 | 8d | 54 |
| 19 | 250,000 | 5,600 | 44h38m | 37,500 | 3,000,000 | 10d | 57 |
| 20 | 300,000 | 5,900 | 50h50m | 45,000 | 3,600,000 | 12d | 60 |
| 21 | 350,000 | 6,200 | 56h27m | 52,500 | 4,100,000 | 14d | 63 |
| 22 | 400,000 | 6,500 | 61h32m | 60,000 | 4,700,000 | 16d | 66 |
| 23 | 450,000 | 6,800 | 66h11m | 70,000 | 5,200,000 | 18d | 69 |
| 24 | 500,000 | 7,100 | 70h25m | 80,000 | 5,700,000 | 20d | 72 |
| 25 | 550,000 | 7,400 | 74h19m | 90,000 | 6,200,000 | 22d | 75 |
Tiers
| | | | | | |
| --- | --- | --- | --- | --- | --- |
| Tier (Level) | 1 (1) | 2 (2) | 3 (3) | 4 (4-5) | 5 (6-7) |
| Image | | | | | |
| Tier (Level) | 6 (8-9) | 7 (10-11) | 8 (12-14) | 9 (15-17) | 10 (18-20) |
| Image | | | | | |
| Tier (Level) | 11 (8-9) | 12 (10-11) | 13 (12-14) | 14 (15-17) | 15 (18-20) |
| Image | 90x150px | 90x150px | 90x150px | 90x150px | 90x150px |