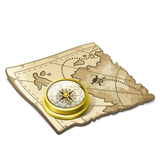 The Map defines the playing area on which Buildings can be built, units can be deployed and Spells/Flags can be cast.
Note: Buildings, Heroes, Troops, and Flags can not be placed on the areas that have Obstacles.
Player's Base
The player's base covers an area of 44x44 fields. 40x40 of these fields can be used to position buildings on. Each building prevents enemy players to deploy units on fields that directly surround the building. For example, the enemy player can't deploy units between two buildings that have exact two free fields between them.
Buildings
Here you can find a list of all buildings and their size.
Backgrounds
Community content is available under
CC-BY-SA
unless otherwise noted.