Shows the rank of each Players.It shows the Rank Number, the 
Fire

and the current 
Might

of the Player.
There are 3 different given Rankings on the board, the over all rankings (rankings as stated) Arena rankings and Guild rankings. Each rankings corresponds with every rank detail.
Rankings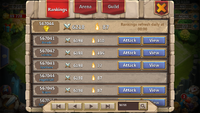 Rankings -  points out in general or overall board ranking of the player. It states your position rank number, might

and number of fire

a player acquires.
Arena Rankings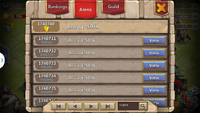 Arena Rankings - state what rank you have in the arena. It also shows the amount of HB

you can receive per hour as rewards.
Guilds Rankings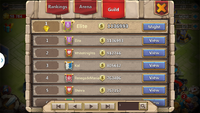 Guild Rankings - shows the rank of a guild you are member with. It shows the rank number/ at the top, your Guild name and the amount of guild credits

your guild has.
Tips

You can browse/search other players and view their base by checking the lower right part of the rank page, by clicking on search and type in the rank page of the player.

Through overall ranks, other player use to browse any player they want to raid by viewing their bases and then initiating a press on "attack" buttons which can be found next to the right side of the player.
Through browsing in overall ranks, you can add players as friends.

When browsing Guild rankings, there are two possible way of sorting: it is by might or by credits. By pressing the "view" button, you can view the guild and have a chance to "join" by pressing "apply" button if they are accepting new members.
Community content is available under
CC-BY-SA
unless otherwise noted.