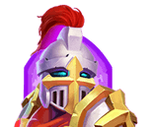 Hi I'm Meibes and currently an admin of this wiki. I started playing castle clash around April 2013, but stopped playing after one month because it was very hard to farm shards back then and continued playing in December 2013. When I first visited this wiki, I was very disappointed, because it was the worst wiki I've seen so far. I started to edit some things, then I created an account and edited even more. Shortly after that I got promoted to admin, which I still am.
If i can help you with anything, write on my Wall.
Castle Clash Information
My current Might is 9k+.
I currently have Paladin, Champion, Succubus, Druid and Thunder God. I rolled Champion with gems and don't like him, all other heroes are bought with shards. I'm saving up to buy myself a Reaper.
I'm a member of the guild DragonsUnleashed. We are a bunch of players that are scattered worldwide.
Community content is available under
CC-BY-SA
unless otherwise noted.